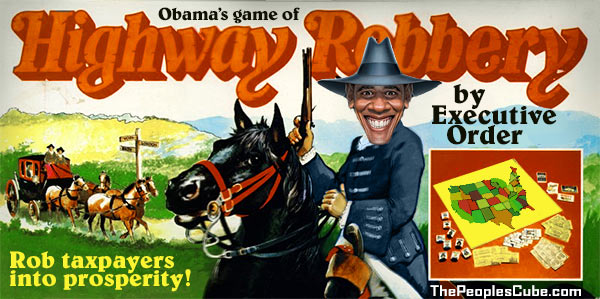 DEAR LEADER OBAMA HAS OUTDONE HIMSELF AGAIN. WITH A SWEEP OF HIS MIGHT PEN HE WILL SOON TAKE AWAY THE PRIMARY FUNCTION OF CONGRESS (CONTROL OF THE PURSE STRINGS). AFTER ALL, EVERYONE KNOWS THAT CONGRESS IS DYSFUNCTIONAL AND HAS VIRTUALLY OUT LIVED ITS USEFULNESS IN THIS MODERN DAY WORLD. IT IS RUMORED THAT OBAMA'S CONSTITUTIONAL LEGAL SCHOLARS ARE SERIOUSLY CONSIDERING WAYS FOR PRESIDENT OBAMA TO ELIMINATE CONGRESS BY EXECUTIVE FIAT . SOMETHING THAT WOULD SAVE THE NATION BILLIONS IN UNNECESSARY CONGRESSIONAL ELECTIONS AND PARTISAN CAMPAIGNS. CAMPAIGNS THAT IN THE END LEAD TO THE ELECTIONS OF CONGRESSMEN WHO ONLY GOAL WHEN THEY ARRIVE IN WASHINGTON IS TO BEGIN RAISING MONEY FOR THE NEXT ELECTION. AFTER ALL WHO NEEDS CONGRESS WHEN WE HAVE SUCH A CHARISMATIC AND ALL-KNOWING LEADER SUCH AS BARACK "HIMSELF" OBAMA (THE ONE PERSON IN AMERICA THAT KNOWS HE IS ALWAYS RIGHT). AMERICA SHOULD "STAND AND DELIVER" ABSOLUTE AND UNCONDITIONAL POWER TO THE ONE MAN WHO CAN FUNDAMENTALLY TRANSFORM A CORRUPT NATION INTO A SOCIALIST UTOPIA!
EMBED CODE
Code for Facebook, Blogs, Websites and Myspace.
Just copy and paste into your site.