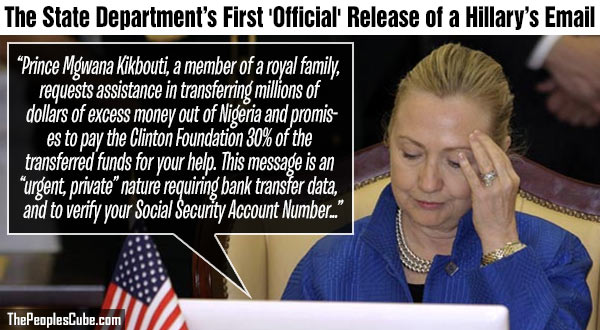 IT HAS JUST BEEN REVEALED THAT HILLARY CLINTON EXCHANGED A NUMBER OF EMAILS WITH PRINCE MGWANA KIKBOUTI OF NIGERIA. THE EMAILS INDICATED THAT IN EXCHANGE FOR HILLARY'S SOCIAL SECURITY NUMBER AND BANK ACCOUNT NUMBER THE PRINCE PROMISED A MASSIVE SUM OF $100,000,000 WOULD BE DEPOSITED IN BOTH HILLARY'S PERSONAL ACCOUNT AND THAT OF THE CLINTON FOUNDATION. HILLARY IS STILL WAITING FOR THE FUNDS TO ARRIVE, MEAN WHILE SOME $5 MILLION WAS MYSTERIOUSLY WITHDRAWN FROM POOR HILLARY'S ACCOUNT SHORTLY AFTER SHE EMAILED HER SOCIAL SECURITY NUMBER TO NIGERIA.
WHY IS ALWAYS GREEDY PEOPLE THAT FALL FOR THIS S*#T?
Code for Facebook, Blogs, Websites and Myspace.
Just copy and paste into your site.