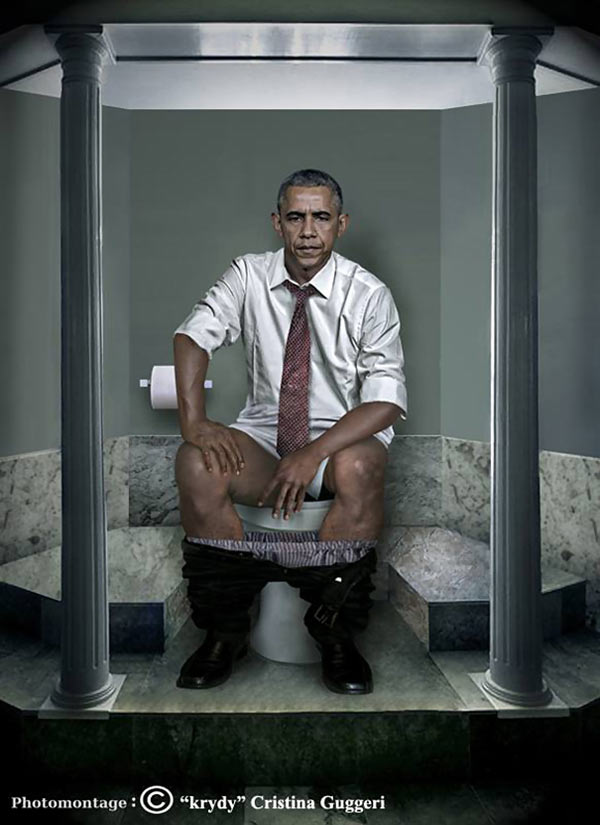 OVER NIGHT A
MUFFLED EXPLOSION WAS HEARD COMING FROM THE WHITE-HOUSE. FOR SOMETIME FOLLOWING THE EXPLOSION MANY FEARED THIS WAS AN ATTACK ON THE PRESIDENT. FINALLY, IN AN ATTEMPT TO SILENCE THESE RUMORS, JOSH EARNEST, RELEASED A SHORT STATEMENT SAYING THAT THE MUFFLED SOUND THAT CAME FROM THE OVAL OFFICE WAS DUE TO THE RECENT INSTALLATION OF ENVIRONMENTALLY FRIENDLY TOILET. A TOILET THAT WERE DESIGNED TO PREVENT THE RELEASE OF ENVIRONMENT DAMAGING HUMAN FLATULENTS BY IGNITING A SMALL SPARK ONCE THEY DETECT THIS DESTRUCTIVE GAS. JOSH EARNEST CONTINUED, THAT FOLLOWING THIS UNINTENDED CONSEQUENCE, THE WHITE HOUSE PHYSICIAN WAS CALLED IN TO EXAMINE THE PRESIDENT AND WAS REPORTED TO HAVE SAID, "OBAMA HAS NOTHING MORE THAN A BLACK ASS!"
Code for Facebook, Blogs, Websites and Myspace.
Just copy and paste into your site.