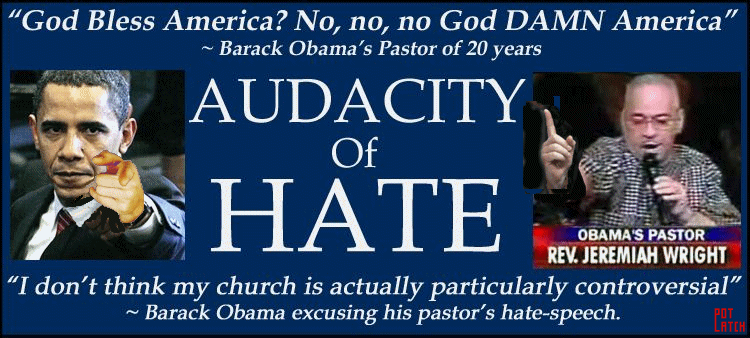 OBAMA PROFESSES TO LOVE AMERICA, SO ONE CAN EITHER TAKE HIM AT HIS WORD OR NOT. TO ME IT SEEMS THAT OBAMA'S LOVE FOR AMERICA IS LIKE THE HUSBAND WHO CLAIMS TO LOVE HIS WIFE WHILE AT THE SAME TIME TRYING TO FUNDAMENTALLY CHANGE HER. HONESTLY THAT JUST DOESN'T MAKE SENSE TO THIS OLD IGNORANT COUNTRY BOY. TO ME THE WORDS THAT FLOW FROM HIS MOUTH, JUST DON'T RING TRUE. WITH ME, ACTIONS SPEAK LOUDER THAN WORDS. GREAT POLITICIANS, LIKE OBAMA ARE GOOD WITH WORDS, BUT IT IS THE GREAT LEADERS LIKE CHURCHILL (A MAN OBAMA HATES) AND ROOSEVELT THAT WILL BE GIVEN THEIR HONORABLE PLACE BY HISTORIANS. WHILE POLITICAL ORATORS AND COMMUNITY ORGANIZERS LIKE ADOLPH HITLER AND BARACK OBAMA WILL FIND THEMSELVES LABELED TYRANTS AND DEPOTS. BOTH WERE LOVED BY THE PEOPLE AND BOTH SOUGHT TO FUNDAMENTALLY CHANGE THEIR COUNTRY----ONE SUCCEEDED, AND AT THE END OF HIS REIGN FOUND HIS COUNTRY IN RUINS. OBAMA IS ON THAT SAME PATH AND LEFT UNCHECKED COULD EASILY DESTROY THE MOST POWERFUL NATION ON EARTH, BECAUSE HE BELIEVES WHAT HE WAS TAUGHT BY THE "HATE AMERICA CROWD" AT SOME OF OUR GREATEST UNIVERSITIES. THE MAN HONESTLY THINKS THE AMERICA THAT MOST OF US LOVE IS EVIL AND HE IS OUT TO CHANGE IT NO MATTER THE COST. HE IS NO PATRIOT AND IN ALL PROBABILITY SEES THE FOUNDING FATHERS AS MISGUIDED FOOLS ONLY CONCERNED WITH THEIR OWN WELL-BEING. I SUSPECT THE ONLY HISTORY HE REALLY KNOWS IS THAT WRITTEN BY REVISIONIST HISTORIANS. A HISTORY REMOVED FROM REALITY AND INTENDED TO INDOCTRINATE YOUNG IMPRESSIONABLE MINDS. MINDS LIKE THAT OF THE YOUNG BARRY SOETORO aka BARACK OBAMA, WHO SOUGHT OUT THESE MASTERS OF DECEPTION ON HIS ROAD TO THE WHITE HOUSE. THE HOUSE HE SITS IN KNOWING FULL WELL THAT HE HAS ONLY TWO SHORT YEARS IN WHICH TO BRING ABOUT THAT CHANGE HE HAS DREAMED OF SINCE HIS YOUTH. WILL THIS AMERICA HATER REALIZE HIS DREAM OF A NEW NATION CONCEIVED AND DEDICATED TO THE PROPOSITION THAT ELITIST MUST GUIDE THE COMMON MAN TO HIS RIGHTFUL PLACE IN SOCIETY----A SOCIETY WHERE HE IS GUIDED BY A GREAT BENEVOLENT BENEFACTOR. AND IN THAT PERFECT UTOPIA OBAMA SEES HIMSELF AS THAT LEADER.
Code for Facebook, Blogs, Websites and Myspace.
Just copy and paste into your site.