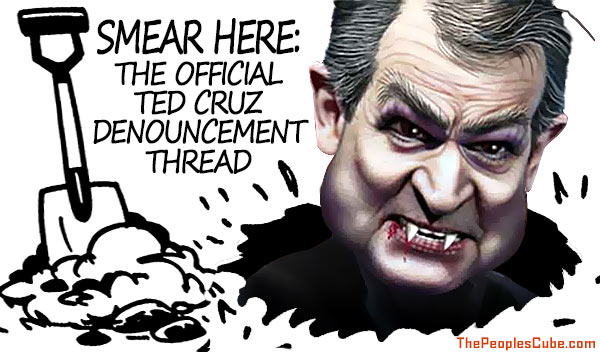 IT'S TIME FOR ALL LEFT WING RADICALS SUPER PATRIOTS TO RALLY ROUND THE HAMMER AND SICKLE STARS AND STRIPES AND LET OUR COMRADES THE PEOPLE KNOW JUST HOW EVIL PATRIOTIC THE SENATOR FROM CANADA TEXAS IS. THIS IDIOT MAN OF THE PEOPLE MUST NOT BE ALLOWED TO STEAL THE ELECTION IN 2016 BE GIVEN THE OPPORTUNITY TO EXPRESS HIS IDEAS FREE FROM THE BIAS SPINS OF THE MAIN STREAM MEDIA. THE MEDIA WILL GO ALL OUT TO SMEAR HIM AND ANYONE CUT FROM THE SOME CLOTH. FOR THEY, MORE THAN ANYONE ELSE KNOW A CANDIDATE LIKE CRUZ WOULD DEFEAT WHICH EVER PROGRESSIVE CANDIDATE THEY RALLY ROUND. THEY KNOW ONLY TOO WELL, THAT MODERATION IN PURSUIT OF A WINNER IS A FOOLS GAME AND BEHIND CLOSED DOORS WILL POINT TO McCAIN AND ROMNEY'S DEFEAT IN 2008 AND 2010. THEY ARE AWARE THAT SHOULD THE REPUBLICANS NOMINATE ANOTHER RINO THIS WILL AGAIN OPEN THE DOOR WIDE TO ANOTHER DEMOCRATIC VICTORY IN 2016. MODERATION IS NOT THE PATH TO VICTORY IF YOU ARE A REPUBLICAN, BUT EXTREMISM BY DEMOCRATS WILL ASSURE A VICTORY OVER ANY MODERATE REPUBLICAN PUT FORWARD. CRUZ HAS JUST RECENTLY ANNOUNCED HIS INTENT TO RUN FOR PRESIDENT IN 2016 AND THE DEMOCRAT ATTACK DOGS HAVE ALREADY BEEN TURNED LOOSE TO DESTROY THIS MAN. PERHAPS THE MAN THEY FEAR MOST IN A GENERAL ELECTION. IF HE WERE SUCH A POOR CANDIDATE THEN WHY WOULD THEY BE MAKING SUCH A HUGE EFFORT TO SMEAR HIM.
Code for Facebook, Blogs, Websites and Myspace.
Just copy and paste into your site.
HILLARY BUMPER STICKERS
SECOND AMENDMENT STICKERS
HILLARY T-SHIRTS