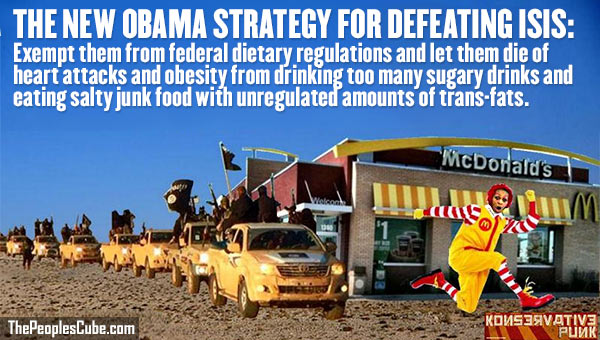 THE OBAMA ADMINISTRATION'S PLAN TO OPEN THOUSANDS OF NEW McDONALD FRANCHISES ACROSS THE MIDDLE EAST IN ORDER TO PROVIDE JOBS FOR "NON-RELIGIOUS" LAWBREAKERS HAS MET WITH SOME SUCCESS. HOWEVER, NOW AN UNINTENDED CONSEQUENCE HAS BEEN DISCOVERED. FOR THOSE WHO HAVE NOT JOINED THE RANKS OF THE NEW BURGER-FLIPPERS AND GIVEN UP THEIR LIFE OF VANDALISM IT HAS BEEN SHOWN THAT THE EFFECT OF SUGARY DRINKS, SALTY JUNK FOOD AND LARGE DOSES OF TRANS-FATS IS TAKING A TOLL ON THEIR RANKS. THEREBY REDUCING TERROR ACTS ACROSS THE MIDDLE EAST BY AN ASTOUNDING 1%.
Code for Facebook, Blogs, Websites and Myspace.
Just copy and paste into your site.