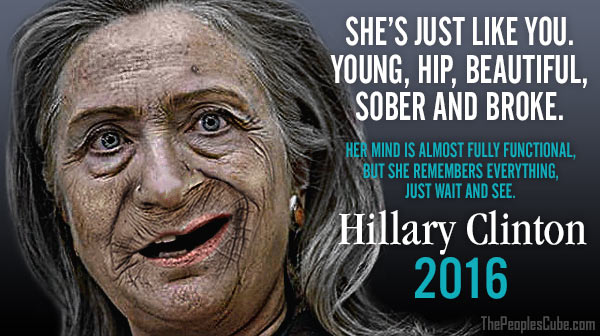 HILLARY CLINTON IS WITHOUT A DOUBT AMERICA'S CHOICE FOR PRESIDENT IN 2016. HER YOUTH, BEAUTY, HONESTY AND TOTAL TRANSPARENCY IS UNMATCHED BY ANY OF THOSE PASTY FACED WHITE MEN THE GOP WOULD PUT FORTH. AMERICA NEEDS TO RALLY AROUND THIS GREAT WOMAN AND HELP HER FAITHFUL HUSBAND FIND HIS FAVORITE SPOT IN THE WHOLE WORLD, THE STAINED CARPET IN THE OVAL OFFICE, WHERE HE CAN REFLECT ON THE "GOOD OLD DAYS"!

Code for Facebook, Blogs, Websites and Myspace.
Just copy and paste into your site.