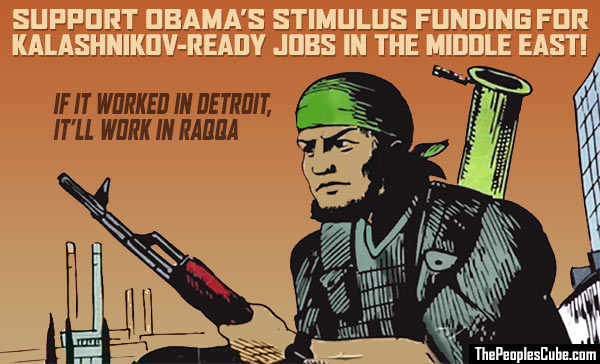 IN A SHOCKING TURN OF EVENTS

THOUSANDS OF ISIS FIGHTERS HAVE LAID DOWN THEIR AK-47 KALASHNIKOV ASSAULT RIFLES AND SURRENDERED TO THE ADVANCING ARMY OF "COLONEL SANDERS" AND HIS MILLIONS OF CHICKEN BUCKETS. THIS ALL CAME ABOUT BECAUSE OF AN EXECUTIVE ORDER

ISSUED BY

PRESIDENT OBAMA WHO ORDERED KENTUCKY FRIED CHICKEN, BURGER KING AND OTHERS TO OPEN SOME 10,000 FRANCHISES ACROSS THE MIDDLE EAST. FRANCHISES THAT WILL BE BUILT WITH TAXPAYER PUBLIC FUNDS COMING FROM THE TO THE "BURGERS FOR GUNS" STIMULUS PROGRAM MANDATED BY DEAR LEADER BARACK "HIMSELF" OBAMA. TO PROVIDE JOBS FOR THE POOR MISUNDERSTOOD, DOWN-TRODDEN TERRORIST OF THAT REGION.


EMBED CODE
Code for Facebook, Blogs, Websites and Myspace.
Just copy and paste into your site.