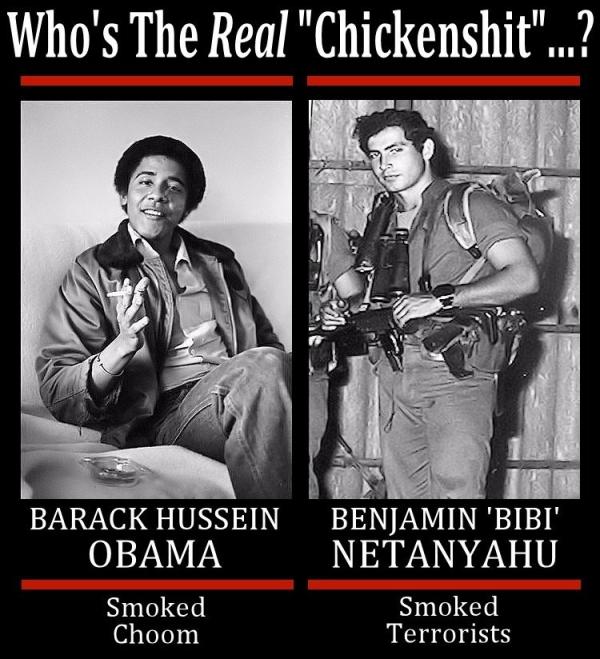 ISRAELI PRIME MINISTER, BIBI NETANYAHU IN COMING TO THE UNITED STATES NEXT WEEK TO ADDRESS CONGRESS ABOUT THE THREAT POISED BY A NUCLEAR ARMED IRAN. THE GREAT COMMUNITY ORGANIZER NOW SITTING IN THE WHITE HOUSE IS REFUSING TO MEET WITH HIM AND SOME MEMBERS OF THE PRESIDENT'S STAFF HAVE EVEN REFERRED TO BIBI AS A CHICKEN $HIT. WE ALL KNOW WHO IS THE REAL CHICKEN $HIT HERE AND IT CERTAINLY NOT THE PRIME MINISTER. HONESTLY I FOR ONE AM GLAD THE PRESIDENT ISN'T MEETING WITH NETANYAHU. AFTER ALL THE PRESIDENT NEVER LISTENS TO THOSE WITH OPPOSING POSITIONS, SO IT WOULD BE QUITE FUTILE FOR BIBI TO SIT DOWN WITH BARACK. AND ON A PERSONAL NOTE, BARACK OBAMA IS NOT FIT TO SIT IN THE SAME ROOM AS BIBI NETANYAHU.
ON A SOMEWHAT SEPARATE BUT RELATED NOTE, THE WAY PRESIDENT OBAMA HAS RESTRICTED THE USE OF MILITARY POWER WHEN IT COMES TO DEALING WITH ISIS AND OTHER TERRORIST GROUPS IN THE MIDDLE EAST I SUSPECT THE WOMEN OF THE IDF (ISRAELI DEFENSE FORCES) COULD BE MORE EFFECTIVE AGAINST THE TERRORIST THAN OBAMA'S HAMSTRUNG U.S. MILITARY. HAVING SAID THAT CHECK OUT THIS BELOW GREAT VIDEO OF THE" WOMEN OF THE IDF" BELOW!
Code for Facebook, Blogs, Websites and Myspace.
Just copy and paste into your site.
HILLARY BUMPER STICKERS
SECOND AMENDMENT STICKERS
HILLARY T-SHIRTS