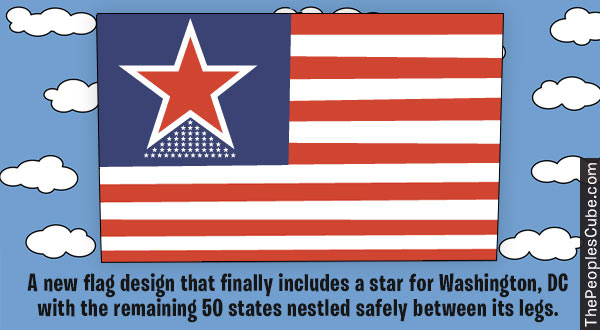 A SECRET SPECIAL COMMITTEE APPOINTED BY PRESIDENT OBAMA ALMOST 3 YEARS AGO HAS FINALLY COME UP WITH A NEW DESIGN FOR OUR NATIONAL FLAG. ONE THAT HAS A STAR FOR WASHINGTON, D.C. A SUPER STAR THAT RECOGNIZES WASHINGTON'S RIGHTFUL PLACE ON THE NATIONAL SYMBOL IF CONGRESS REFUSES TO ACT AND APPROVE THIS NEW FLAG DESIGN IT IS VERY LIKELY THAT PRESIDENT OBAMA WILL ISSUE AN EXECUTIVE ORDER MANDATING THAT ALL FEDERAL INSTITUTIONS FLY SUCH A FLAG.
Code for Facebook, Blogs, Websites and Myspace.
Just copy and paste into your site.